Mountain Biking Tour of Bastrop, TX

After receiving a last minute invitation to drive a hundred and fifty miles to bike camp and stay in a rustic cabin I considered whether or not it was worth the drive for a few hours of trail riding and photos. Haha, that lasted about a minute before I found myself grabbing my

pack kit

,

bike

,

dog

and after throwing them all in my van drove two and a half hours straight through to arrive just in time for a nice sunset, dinner and bike camping under the stars.
Five years ago the beautiful area of Bastrop, Texas was hit very hard by a mass of forest fires devastating the local community who like all small town residents consider the natural beauty of their area a part of feeling at home. I have had some experience with living in a community hard hit by forest fires while living in Durango, Colorado. When a beautiful small town resort area gets hit by forest fires it also tends to hurt the local economy as tourists aren't drawn to areas which appear to be in such an unnatural state of disrepair.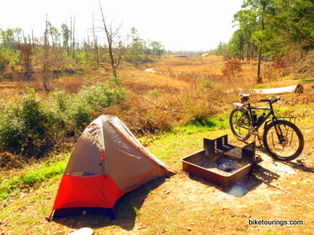 We had visited
Bastrop and Buescher State Parks
a few years ago, just a year and a half or so after the devastating fires. This time we decided to go during the winter and rented a cabin with tent space for our
Alps Mountaineering Lynx 1 person tent
as dogs are not allowed in the cabins, we didn't mind that's why we have our tents. And a beautiful meadow for riding in our own back yard! : )
If you've never seen an area of natural reforestation a few years after a forest fire it can be beautifully inspiring. When an acquaintance heard I was going to hit the trails in Bastrop she requested I share some photos of the area saying "it would be interesting to see how the area looks now with all the new growth". It's true, it is quite beautiful, especially the naturally occurring new growth which is in no way meant to devalue the efforts of the National Forest Services tree planting efforts which is beautiful in its' own way.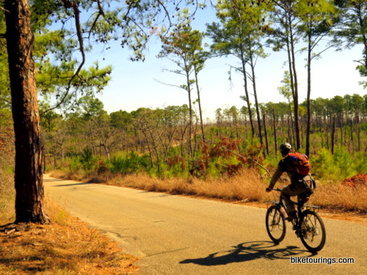 Some areas are glowing with green new growth revealing a stark contrast in size when compared to the trees which survived the fires. It's actually quite beautiful and glad I have had opportunities to observe the changes and witness how rapidly a forest bounces back with or without intervention. Most if not all the trails are now reopened whereas a couple years ago they were not. Some of that was simply due to the safety issues of trees possibly falling on folks as well as keeping folks from trampling the fragile potential of new growth which was just occurring at the time. So ya, I had a few yee ha! moments to say the least as the area is still so incredibly beautiful.
​Links related to this topic:
Visit Bastrop and Buescher State Park for Current Park Conditions
_